I haven't checked in for a couple of weeks. I went to our District Winter Camp (Girl Guides) last weekend and it has taken me most of the week to recuperate. I know my mother would say I am getting too old for this but I really enjoy this kind of stuff and I am glad I went. Didn't get much stitching or knitting done last weekend or during the week but I more than made up for it this weekend.
I started another Pamela Kellogg Mystery SAL the "First Robin of Spring". Thank goodness I read
Juggy Bug's Blog
on Thursday or I don't know when I would have remember that I had signed up for this SAL. LOL The first part came on out last Saturday (while I was at camp) and the second part was released yesterday. Here is a progress pic of Part I:
I am also participating in another SAL at
Needleworkers' Haven.
These are Freebies available from
Lune d'Automne
designed by
Gencat

.
We are doing 1 heart a month. Since I started a bit late I am doing a bit of catch up. I have finished March and Febuary and I am currently working on January. I am making these into magnets.
A few more stitches have been added to the "Mediterranean Terrace" and I hoping to have it finished by the end of the month. I also working on another mitten shaped ornament.
With my knitting, I am still working on the 2 scarves I started last month and another dishcloth. The Mystery KAL (from Whoduknit) seems to be on hold for the time being. The person supplying the clues to the pattern has been MIA for the past couple of weeks. We are starting a mini Mystery KAL on Monday. The book we are currently reading The Last Kashmiri Rose by Barbara Cleverly. I'm enjoying it so far. I found the the romance in last month's novel -Birthright (Nora Roberts)- overshadowed the mystery but otherwise it was a good read.
We started a RR at NH this month. It is attempt for 4 of us to have a tree skirt by Christmas this year. My is a Nutcracker skirt (surprise, surprise!!!!!!). Here are pics of what it will look like when finished and how much I have done on it.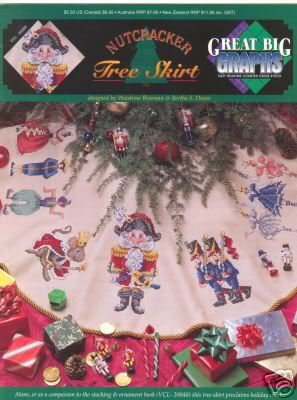 Till next time. Happy Stitching(or Knitting)!!!!!!!!!
Loretta