I woke up this morning to find a e-mail from
Nancy
of
Glory Bee Counted Cross Stitch Design
. She has just finished stitching LHN's Strawberry House (click on Nancy's name to see a picture of it on her blog) and has picked my name from her list of followers to receive the pattern.
I am so excited. I love LHN designs and can't wait to stitch this one.
Nancy has some great designs also. If you haven't checked out her website yet I recommend you do so now. I especially love
Sweet Cabin GB-41
, Margarita GB-46
, and Born To Stitch GB-80. She also has some great freebies.

Here is a Christmas ornament design by her that I stitched in 2006.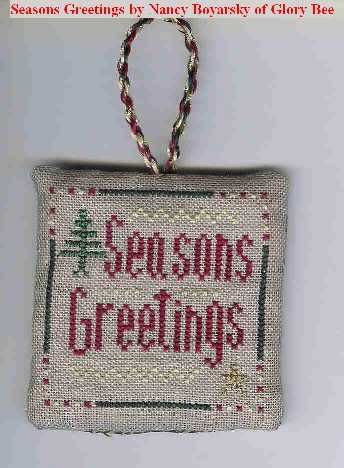 I also stitched the original
"Priceless"
design in 2005. It had to be revamped and is now called Stitching With Friends GB-88. I think I might get that one as a companion piece.