In August of 2010 I finished stitching this design of
Twas the Night Before Christmas (Little Old Me Designs)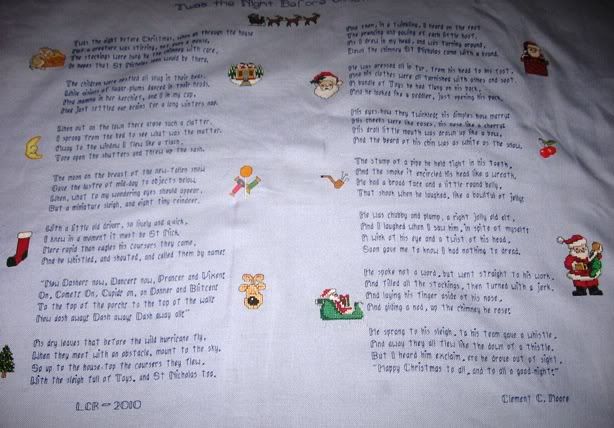 My thought was to make it into a wall hanging but I needed to find the right fabric for the backing. After several months of searching I finally found it on
Esty
but the background was in green and I wanted blue. I did some further searching on the site and eventually found the very same fabric with a blue background. It is called
Dash Away All by Alexander Henry Fabrics
. I think it is absolutely perfect.
But I sure had a long wait before the fabric was in my hot little hands. I ordered the fabric on October 23rd. It was mailed (first class) on October 24th (the cancellation stamp verifies this) and it arrived in my mailbox today - six weeks later. Normally anything mailed to me from the States takes at the most 2 weeks - sometimes 3. The only time something took over a month was when the sender put the wrong Postal Code and the parcel went to another Province first. I felt for sure that the fabric was lost for good. It sure made my day to come home today and to see that it had finally arrived.
Before I sign off for the evening, I want to remind you to check out my Mini Giveaway for the 2010 PS Santa. Check out yesterday's post for the details.
Take care and happy stitching!!!!